A great start to the VLN season!
Straight from Spain, where I had been relaxing by the pool and hiking in the Andalusian mountains, to beautiful Eifel and data analysis/coaching for Adrenalin Motorsport. Fielding 10 cars is great, but is makes for a busy weekend! All observations from the VLN T&E one week earlier had to be implemented so that all data loggers would work perfectly, and on Friday a first for me – passenger seat coaching! Luckily my pupil, Charlie Postins from the US, had studied hard so it was a joy to experience how quickly he learned the track considering he had never driven it before! Starting at 08:00 with convoy driving and ending around 12:30 after a full 8-lap stint in the M235i Racing cup car, he got his DMSB Permit Nordschleife Grade B and was ready for VLN with his two friends James Clay and Tyler Cooke in our #668!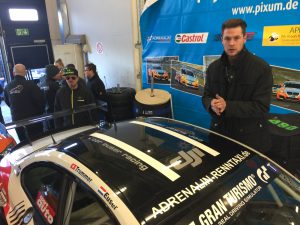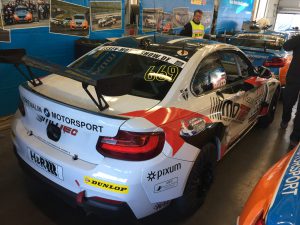 Another driver that had my special attention this weekend was Cor Euser, my Dutch race team boss! He has decided to drive yet another Nurburgring 24H, but needs to upgrade his permit to Grade A hence a couple of races in a Cup5 M235i – the #669 would be his this weekend, sharing it with Swiss LMP racer Simon Trummer!
The Eifel showed off its best side this weekend so we had glorious weather and a track that could be driven very fast, and so it was. Our three Pixum livery cars are in it to win it, and their driver line-ups consist of very fast and experienced Nordschleife experts. In the #667 Cup5 BMW M235i Racing, we have Daniel Zils, David Griessner and Uwe Ebertz. In the #444 V5 Porsche Cayman, we have Daniel Zils (double starter), Christian Konnerth and Norbert Fischer. In the #490 V4 BMW E90 325i, we have Christopher Rink, Danny Brink and Philipp Leisen.
Qualifying results Cup5: P5 #667, p17 #669, P18 #670, P19 #668 of 22 entries.
Qualifying results Cup4: P7 #526 of 10 entries.
Qualifying results V5: P1 #444, P7 #445 of 13 entries.
Qualifying results V4: P2 #490, P11 #480, P15 #485 of 18 entries.
So, both V4 and V5 on the front row in their class, whereas the Pixum Cup5 a bit further back than desired; however, much can happen in a 4 hour race on the Nordschleife!
Watching 10 cars making good progress on the timing screens and occasionally on the TV broadcast is good fun. Not as fun as driving of course, but that's another story. Unfortunately, our Cup4 Toyota GT86 got hit by a GT3 car in lap 4 and could not finish the race. In Cup5 the #667 ended where it started in P5, the #669 finished in a fine P9, the #670 with our Italian trio Francesco and Eduardo Bugane and Luca Sadun in P14, and the American trio on #668 in P18. Victory was celebrated in V5 with #444 whereas #445 finished in P6. Finally in V4 the #490 drivers were a bit disappointed with P5, whereas P11 for #480 and P14 for #485 are very respectable results.
Once the Parc Ferme opened, I could get all the data from the cars and will use it to study and prepare for the next VLN in only 2 weeks – till then!