Date: 31 March – 2 April 2017 //
—
Data Analysis and Coaching – and not Driving A3-class BMW E46 M3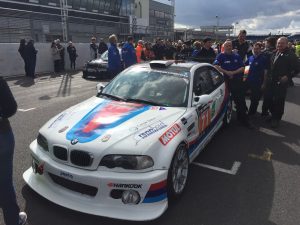 Not driving? Sounds familiar? Yes, exactly the same as in Dubai earlier this year; my seat had been snatched by a last minute sign-on driver. Oh well, not driving and instead being able to focus on the data logging and driver coaching isn't such a bad deal. 🙂 This time we were using real time data telemetry from the car to the pit for the first time, and new tech usually comes with a few challenges so it was actually quite nice not driving as well – can't believe I'm saying this!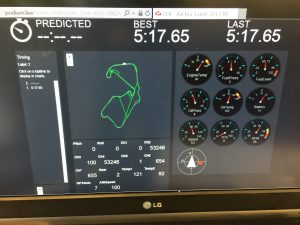 This time, the BMW E46 M3 would be driven by Cor Euser himself, Jim Briody (USA), John Farano (CAN), Peter Klutt (CAN), and Maarten Mus (NLD). With several of the drivers being new to the Silverstone track, the data logging and related coaching was going to be an important element of the weekend's activities, so when the brand new data logger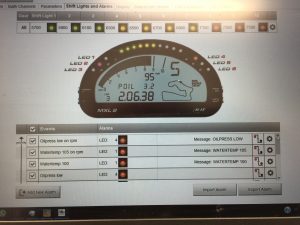 blew up before we even got started, we were very pleased with the outstanding support from the AiM reps in NLD (Albi Engineering) and UK. After a few phone calls we could dispatch a driver to pick up a replacement unit and before long everything was back and working well. Initially we struggled to get the RaceCapture telemetry unit online, but with great support from the guys at Autosport Labs it was also working.
All the practice and qualifying session went fine, with the drivers getting more and more confident with the car and track, so we got to P2 on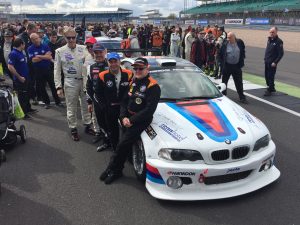 the grid, just behind the very strong Intersport Racing M3 CSL. The race starts and we're not fastest, but steady laptimes keeps us in contention so when one other M3 after the other needs extra pitstops for fixing problems, we're in P1 after 3 hours.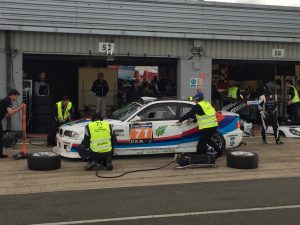 One hour later, we're still in P1, now 2 laps ahead of Moss Motorsport UK and 13 laps ahead of the CSL – the other cars in our class (Honda, Seat, Mini) are even further back. One hour later, and we have increased our lead to 4 laps – clever Code-60 strategy, some luck and smooth pit stops create big smiles in our pit box!
At the 6 hour point, we are 14 seconds behind the Moss car – luck strikes both ways! At the 7 hour mark, we are 2 laps ahead again! This is really entertaining and keeps both the drivers and the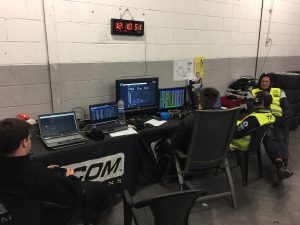 crew glued to the telemetry and lap-timing screens. 8 hours gone, and we're 1 lap ahead. 9 hours, we're up to 3 laps ahead. 10 hours, back to just 1 lap ahead. 11 hours, up to 5 laps ahead. 12 hours, half time, and we're 6 laps ahead of the Moss car. We see to our surprise that the Intersport Racing CSL has been "promoted" to the GT4 class –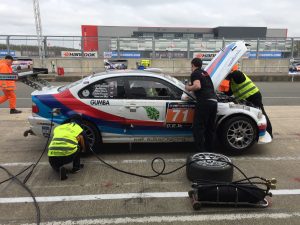 they had been charging hard the last hour; too hard and gone faster than the minimum reference lap-time for our class too many times. 13 hours, we're 8 laps ahead. 14 hours, down to 3 laps ahead and at the 15 hour mark we're 12 laps BEHIND the Moss car! Yes, we too had an issue – lost the left rear wheel in a high speed right hand corner!!! Not funny, but luckily the run-off areas are huge at Silverstone so we didn't hit anything, and with the quick recovery and brilliant work from the team we were definitely back in the race. 16 hours, now "just" 9 laps behin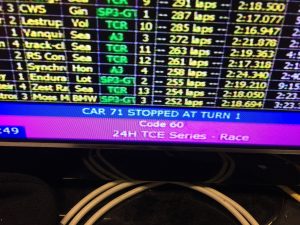 d. 17 hours, 6 laps behind – this might still go our way! 18 hours, up to 7 laps behind – the Moss team has seen us coming and are now pulling away from us on track. 19 hours, we are back in P1, now 29 laps ahead of the Synchro Motorsport Honda Civic Type R! WHAT? Yes, the Moss M3 had done the same faux pas as the Intersport CSL – they drove too fast and got bumper up to the GT4 class! Not an issue for them really, instead of leading the A3 class they we suddenly leading the GT4 class, with a healthy 8 laps gap to the P2 there. Were we complaining,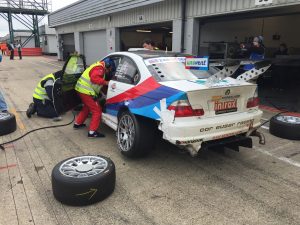 not really, but it would have been more fun beating them on track than being handed the class victory like this. Hang on, it's not won yet, there's still 5 hours to race! 20 hours, still 29 laps ahead. 21 hours, now down to 17 laps ahead – what is going on? We're in the pitbox with a broken diff, does not look good.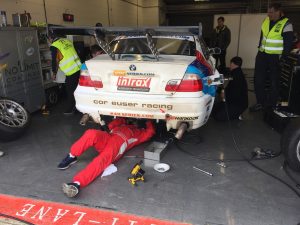 21 hours, we're P2 now, stuck in the pit with a broken diff 4 laps behind the Honda and 12 laps behind the still running Vanquish Motorsport's Seat Leon Supercopa. 23 hours, still P2 and still stuck in the pit; the Seat is now just 5 laps behind – will they get to the finish flag? Yes, 24 hours and we're collecting a hard fought, but slightly bitter P3 – for so much of the race we were in very good shape for finishing on top of the podium. Oh well, that's racing – we'll be back and as always; we're in it to win it!!!