Date: 11-14 January 2017//
—
Data Analysis/Coaching – and not Driving A3-class BMW E46 M3
Not driving? Well, it wasn't how I had planned this event, in fact I didn't know until 3 AM when I arrived at the hotel in Dubai Wednesday 11/1. Good news for the team though, Cor Euser traded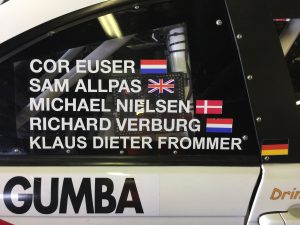 with me so he would now be driving with Richard Verburg (NLD), Michael Nielsen (DNK), Sam Allpass (GBR) and Klaus-Dieter Frommer (DEU). The swap would allow me to focus on the data analysis and driver coaching and I would also be able to assist with the race strategy by keeping track of fuel consupmtion and other key data points – good fun!
On Wednesday, after the pit box is fully kitted out and everyone has found their places, Cor takes the car out to make sure everything is good after the transport – it is! Then Michael and KD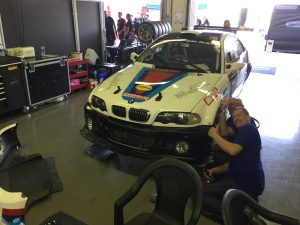 have a go; none of them have driven on this track or in this kind of car before. Our target lap time is 2:17, and KD is already on 2:19 (!) and Michael is steadily improving throughout the session.
On Thursday we have a lot of testing. First it is Michael and KD again, then Sam has a go (first time on this track and in this car as well) and gets even with Michael at 2:23. Richard joins us, straight from Hong Kong,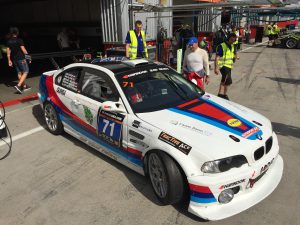 and sets a nice 2:20 in his first session in the car – he has driven the track a few times  before though. Cor has a go and uses only two laps to put in a nice 2:17 that we can use as reference lap for the other drivers to try and match. Michael benefits immediately and is now on 2:19 whereas KD gets a standing ovation when he comes back after a smashing 2:17. Sam continues to improve and is now on 2:20. We decide to let Michael and Richard drive our qualifying session and Michael convincingly gives us two laps at 2:17 while Richard has to be hauled in when he goes below 2:17, twice! Awesome, we have P3 in class, only beaten by the two Peugeots that took it all out and both drove 2:15! Upbeat and very happy that all drivers are on pace, and the car without a scratch, we let all the drivers make a few laps during the dark practice before calling it a day and give the mechanics a chance before its too late to finalise the preparations of the car for the big day.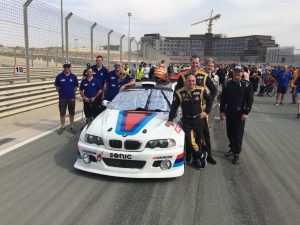 Friday, race start, perfect weather, grid walk, Sam is given the honour and responsibility to drive the start stint. Nerves are tightening, all start drivers know that 100 cars on a 5.3km track means very heavy traffic and, unfortunately, accidents will happen. After two warm-up laps, we go green and fortunately the field has stretched so far apart that there is no drama in corner 1. Steady does it, so Sam spends the first 30 minutes putting in laptimes plus minus 2:20 which is just fine. The first code 60 comes and the Kuepper M3 pits for fuel, all others stay out – ok, the strategy game has begone. Sam gets more confident and puts in a string of 2:18 laps, good man! It the pitbox we're now starting to keep a closer eye on fuel level and driving time as the two hour mark is approaching. We have had both the Peugeots in for fuel at ca. 90 minutes so even if they are faster, we have an advantage in that we can drive the full two hour stint on one tankful. Then it happens, code 60! This time it seems like everybody comes in for fuel, with the inevitable queues at the pumps. We let Sam drive another lap and are very happy to see him in the pitlane 6 minutes later – he is very close to the 2 hour stint limit, perfect timing!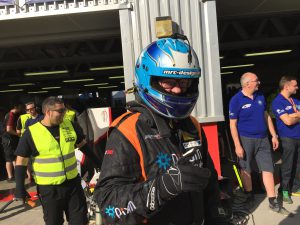 KD is next, and after a quick driver change he heads for the fuel pumps with 4 new tyres. During code 60 he can only fill half tank, and with the code 60 being lifted on his outlap we decide to let him race, hoping there will be another code 60 before we have to bring him in for more fuel. As expected, KD is quick to find his rhythm in the traffic and is putting in steady 2:18 laps. After some 45 minutes we start to pay keen attention to his fuel level and begin to prepare for calling him in – running out of fuel is not an option. Then suddenly we hear on the radio "car not working, coming to box". Ouch, what has happened? Car comes in, looks good, but by closer inspection we see oil leaking from under the front of the car. It's rolled into the box and the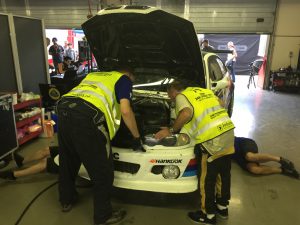 mechanics swarm all over it. Frantic activity under the car, drivers and other team members looking on in angst. Finally the mechanics emerge with a broken propshaft and bad news, engine block is cracked. Game over. Long faces all around. Only 3 hours and we are out of the race.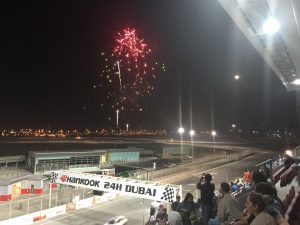 It is one of those thing that can happen in endurance racing, it shouldn't, but it does. Three drivers didn't get a single race lap. I know how they feel, I've been there. It's no better for the team, they spent endless hours preparing the car for the race and still something went wrong. I feel for them too.
We'll put this behind us, prepare even better for the next race, and have fun finishing the next race, on the podium, on top of the podium, because we are in it to win it!
See you in Mugello, or Silverstone, or …