Date: 30 October 2016//
P5, but only 11 seconds behind P1!
It should have been the last race in 2016 counting towards the BMW Sports Trophy, so Pixum Team Adrenalin Motorsport gathered some of their regular drivers as guest starters in this 2H 318ti cup race for a last effort. It was therefore quite disappointing to receive an email late on Thursday announcing that the race would not count towards the Trophy after all. Well, we would still have a race and make it a fun one – and fun it was!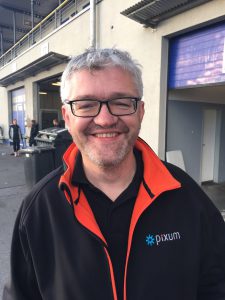 I was paired up with KD Frommer in car #518,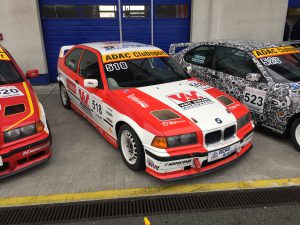 the Cup makes sure the drivers get a different car every race, and used the free practice to get to know the car and track. KD had done one race in the 318ti Cup at Oschersleben earlier this year, whereas I hadn't raced there since 2008 so needed a few more laps than him to find a rhythm that also gave a reasonable laptime. Hence we also decided that I would do the qualifying for our car, which went fine although 2s behind the fastest in our class only resulted in P9 of 10 (P14 of 20 overall).
The race regulations required two pitstops of minimum 5:05 each so we decided that KD would start and do 25min, then I 55min, then KD the last 30min – with an eventual code 60 pitstop taking precedence. As with most races, it did not go exactly as planned :-), with the red flag being shown in lap 7 and the cars stuck on track for 30 minutes… Many teams came in immediately after the green flag filling up the pitlane, but KD luckily stayed out an extra lap so we had no stress during the driver change.
My stint went without much drama; was overtaken by a quicker cup car and a Cruze (different class), overtook a couple of Dacias (different class) and tried to figure out my laptimes from the countdown clock over the finish line (no radio or pitboards). With the minimum pitstop time of 5:05 and having to have left the pitlane before 20:00 left to race, we had decided that unless there was a code 60 I would come in during the lap when the finish line clock showed ca 30 minutes left; would give us plenty of time. So when I saw 29:12 on the clock I prepared for going pit in, caught up with a Dacia just before the last turn and somehow he must have panicked so he ran wide, spun through the gravel trap before pit entry and the only way to avoid an accident was to keep on track – bummer, I should have pitted!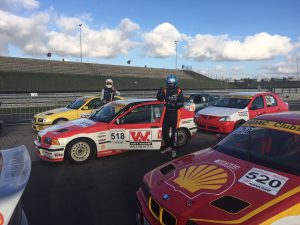 So passing the finish line I saw 27:10 on the clock – eeek, this was going to be tight! OK, full concentration, this had to be one of my fastest laps, smooth, then pit in, no time to waste through the pit entry until the 20km/h sign; quick glance at the finish-line clock – 25:08, that meant 3 seconds to spare! The driver change itself was no stress – we have to stand still ca 4 minutes, but could we time it precisely enough to use between 5:05 and 5:08? KD is off, and I look at the monitor counting up the pitstop time, finally stopping at… 5:05 – perfect!
Shortly after KD has started a code 60 is ordered, and somehow the cars that were reasonably spread around the track now bundle up and when the green flag is given there is less than 10 minutes to go and all cup cars are bumper to bumper – what a final! KD keeps calm and drives very well, challenging the faster cars/drivers yet not taking unnecessary risks, having a ball! In the end we finish P5 in class (P6 overall) – and only 11 seconds behind the winner!
The full race report from the organiser is here (in German):