Date: 22 October 2016//
—
Data Analysis/Coaching – and Driving V5 BMW Z4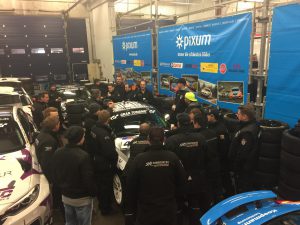 It was a foggy, wet and cold Friday morning, but I was on the 'ring and a racing weekend was ahead so no complaining! Having missed out on VLN 9, there was quite a lot of catch-up with the Adrenalin cars that were lined up and ready for the morning test drives. There were also some new Firmware releases from Aim that needed to be put on the many loggers and cameras we use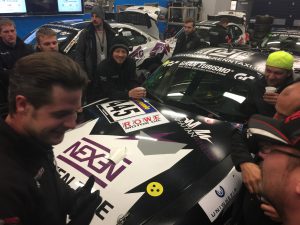 so I quickly got stuck into the details.
As usual, questions came if I was going to race this weekend, but the answer was "don't think so" as I looked at the silly track conditions.
In good time before the first taxi guests were lining up for their laps, all 6 cars (3x Cup5 BMW M235i Racing, 1x V5 Porsche Cayman, 1x V5 BMW Z4, 1x BMW E90 325i) were ready to race (data and video equipment wise) and I could dig into some troubleshooting based on driver feedback from last VLN and RCN.
Towards the end of the taxi-lap session Matthias Unger, the Adrenalin Motorsport owner, came over for a chat and before I knew it I had renewed my engagement with the team for 2017 and got a seat in the Z4 for the race next day – very happy!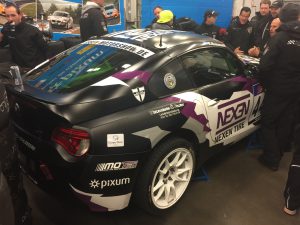 Qualifying on Saturday morning was proper wet, so my teammates Uwe Mallwitz (DEU) and Eduardo Romanelli (ARG) took a very careful approach to their first time on the Nordschleife with rain tyres, putting in 14- and 13-minute laps, whereas my 12:11 put us on 117th of 139 participants overall, but still P9 and last in V5 some 70 seconds behind P1, hmmm….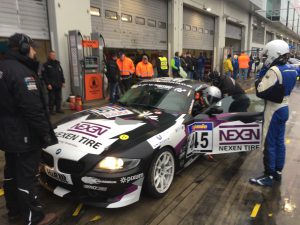 Uwe went on to take the start and it was still full wet conditions, but he kept his calm and steadily improved his laptimes to 12:02 while the track slowly got a bit dryer. After 8 laps he handed the car over to Eduardo who had his eyes set on 8 safe laps to build on his Permit A qualification. The team sent him out on slicks on a track that still had a lot of wet patches so we followed his progress anxiously on the GPS tracker, but he managed well and during his stint could set an 11:00 lap.
With 45 minutes to go I got into the car and by now the track was mostly dry, so I was curious to see if I could get closer to the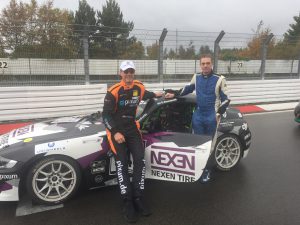 other V5 laptimes now. It was more than four years ago since I last drove this car, so basically everything about racing it had to be figured out from scratch again, but the car is very well controlled so by improving 5 seconds per lap I was gaining confidence quickly. Having put down a 9:58 in my fourth lap, the cars's quickest lap in 2016, and with a good start of lap five, I wasn't too pleased when I came upon a convoy of slow cars being held up by somebody driving 60 under yellow behind a tow-car.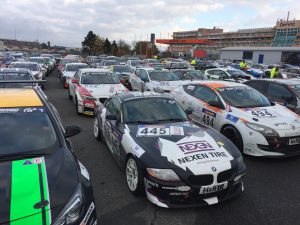 With a clean run in this last lap of 2016 VLN, the 9:55 best laptime in 2015 would definitely have been broken too…:-) We still finished P9 in V5, but advanced to P88 overall.
The end-of-season party was held in the Eifeldorf disco, with a break-out to the Langstreckenbar where a very nice video was played, showing the team in action throughout the year – brilliant stuff! Looking forward to next year already!!!