Date: 15-16 October 2016//
—
Driving Citroen C1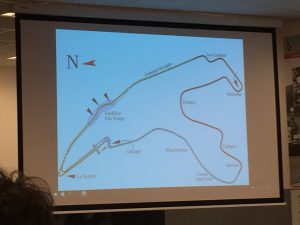 Having declined an invitation from Meyrick Cox to participate in his latest invention, 24H racing in Citroen C1 together with the 2CV establishments, I was all set to race at the 24H Series season final in Brno when Cor Euser Racing announced that they had to cancel their participation due to lack of drivers. Now what? No racing? Unthinkable! A quick call to Meyrick revealed that his service team Match Racing still had a couple of seats available so a deal was made – I was going to drive a Dutch C1 at the 24H of Spa!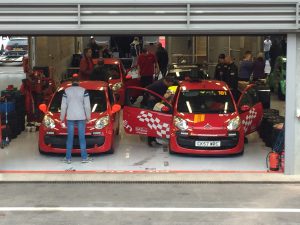 A couple of days later I joined the English in Francorchamps for an evening meal and ended up having a great evening and a bed for the night back at the B&B they rented for the weekend. Friday morning it was off to the track and a day of Free Practice. It was nice to meet the Match Racing crew again, they do the ice driving in Sweden I enjoyed last winter, and my fellow Dutch drivers Johan Jansen and Tom Meylink turned out to be experienced FWD racers – things were looking good.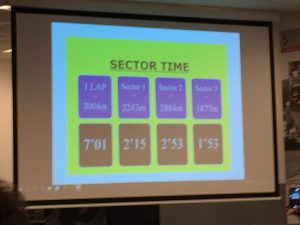 We didn't get much driving out of the first session; the team still had some work to finish off the cars, but with three full hours in the afternoon we decided to go a full hour each to try and figure out how to drive the C1. As expected, with 3:45 I was a couple of seconds off their pace; they both drove 3:43, but looking at the videos it seemed possible to pick up speed in quite a few places so we were confident that we would be almost level and thereby quite competitive during the race.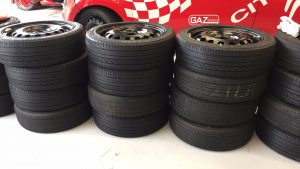 The driver briefing on Friday evening was conducted in French, Dutch and English. The French started off, the the Dutch translation was given, and finally the English. Interestingly, they told us three different versions of the rules so everything was of course crystal clear when the session was over…:-) Some factual slides where quite useful though, like the one showing sector distances and time during code 60 – the slides only had one language version!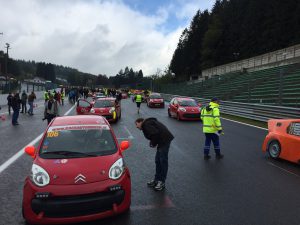 Qualifying on Saturday morning was all wet, so I got to start. Memories of starting a wet qualifying before a 24H in a FWD car with cold tyres kept lurking at the back of my mind, see this race report. With priority of safety over speed, I return the car to the pits in one piece and Tom takes over, followed by Johan who as expected then sets our quickest time at 4:06, good enough for 3rd on the grid.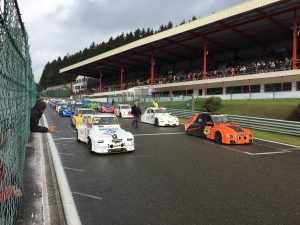 Getting 75 cars placed on a grid based on qualifying times should be quite easy, but somehow there are no grid marshalls around when the cars arrive and we experience a period of chaos and confusion. To make matters worse, the organisers have decided to change the starting procedure from standing to rolling start, adding to the confusion. Anyway, nothing seems to be able to bring Johan, our start driver, out of balance and he calmly gets going and puts in a solid stint, handing the car over to Tom in P2. All seems normal and I start to prepare for taking over when suddenly Tom appears in front of the box, on a tow! Out of fuel! Bummer. Fortunately the tow car had not taken long to arrive so we only lost ~3 minutes…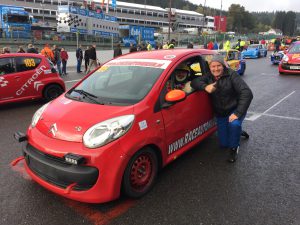 Being rushed into the car only half prepared, I was thankful that refueling takes quite a while so when I got the GO signal it was pedal to the metal and into my first race stint. There was a good mix of speed among the cars on track, some faster, many slower, almost none same speed. And by the way, not the kind of speed differences we have in VLN; this was very gentle. The car was sliding a lot, but very controllable, and after a while I could find a way to exploit the sliding to aid both braking and turning. Laptimes settled around 3:43, with the odd 3:41 when I got a good slipstream up the hill. Darkness fell and it was time to pit, and hand the car back to Johan.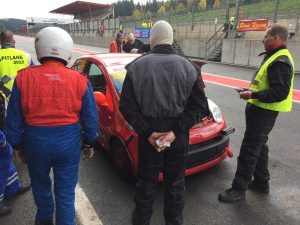 Both Johan and Tom now drove long stints, almost 3 hours each, refueling when there was a suitable Code 60 or Safety Car. Then just after midnight, it was my turn again. It's dark, we have the extra lights, but it's still very dark and somewhat difficult to judge distances both forwards and backwards. So I'm slow, about 5 sec off the daylight pace, for the first hour. Then somehow you get adjusted and laptimes start to drop and eventually I was back in the 3:43s again, happy. There were quite a lot of accidents during my stint. One spectacular one happened to the car just in front of me; I was a bit faster than him, but he had overtaken me in La Source so I was behind him down the hill. We are of course flat through Eau Rouge, but this Hybrid got a bit of oversteer, over-corrected and slammed into the barriers to the left and caught fire – bad accident. Same place a bit later, Meyrick is on my tail down hill and we catch a Classic 2CV in Eau Rouge. I have to lift to see what line the 2cv takes, right, so I go left to overtake when Meyrick who hasn't lifted comes screaming by off track on my left and there isn't room for all three of us at the Raidillon left kink – the 2cv and I exchange some paint…:-)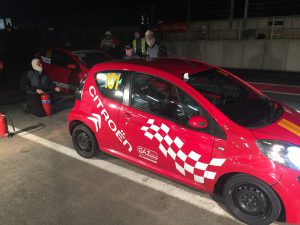 Johan is next, and clocks lap after lap with impressive regularity. Then it's Tom, and apart from an unscheduled visit to the pit to check the car over after a rough encounter with a 2CV in the Busstop Chikane, he too drives very consistently and finishes off the night stints. I get into the car ca 08:00 and quickly find a good rhythm, only interrupted by the inevitable Safety Car periods. When one of them get lifted, I suddenly see the #101 car in front of me, the class leader! Inspired, I overtake him into Double Left which again inspires him, Ryan Curl, to set chase and we have a very nice run until he has to pit; check out this video! When chasing Ryan I set my personal best laptime at 3:39, very happy!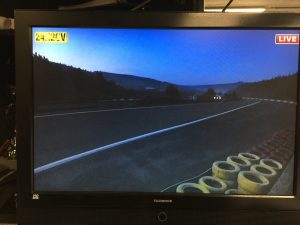 With 2.5 hours to go, I pit to let Johan finish the race for us. We are just one lap behind the leader, and Johan is catching Ryan with 2-3 seconds every lap. Then when Ryan gets to take a Stop-and-Go penalty we really get excited and wonder if there is a possibility that we can snatch the victory in the final laps. We are P2 just 2 minutes behind P1! Unfortunately when there is 1 hour left we have max bad luck with a Safety Car and suddenly we are over 3 minutes behind; no chance to catch that just by driving a bit quicker. Never mind, we had a great race, a fantastic experience, made a lot of new friends and can look back at a very good result (P13 overall) – what more can you want?!