Date: 6-7 May 2016 //
—
Data Analysis and Coaching.
Cor Euser Racing had brought the lovely Lotus Evora GT4 to this event, where Sam Allpass and Dom Bastien would join Cor Euser in an attempt to defend last year's class victory. The SP3 class had 11 entries from a wide range of manufacturers: Lotus, Ginetta, BMW, Honda, Saker, KTM, Seat and Porsche!
Both Sam and Dom were enthusiastic about the coaching that certainly was a benefit for Dom who was at Zandvoort for the first time. With good weather throughout the weekend, they could both significantly improve their laptimes and together with Cor they were the team to beat!
Cor sets a great qualifying time at 1:48.6 (see video here), good enough for P2 on the grid only 0.1s behind the KTM by RTR Projects and 0.9s ahead of the BMW by JR Motorsport. However, just before the start, the KTM is rolled off the grid with a technical issue and we're starting from pole! Cor dominates the field through the first couple of hours (see short video here), and hands the car over to Sam with a solid lead over P2. An unscheduled 10 minute stop sees us slip back to 2nd, but just before the end of the race first part (3 hours) the leading car makes an unscheduled 12 minute stop so we are back in the lead with over a lap! Unfortunately, the car lost power steering towards the end so the team has to decide if they take a 10 lap penalty and pull the car from Parc Ferme to fix it or to gamble on it being a quick fix that takes less than 20 minutes just after race restart; the gamble is made.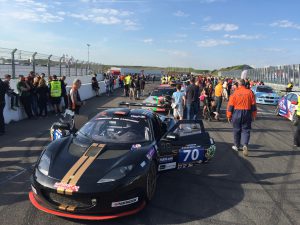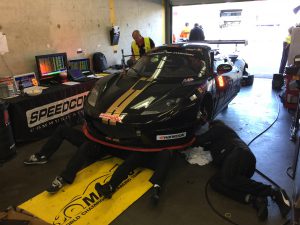 The restart for the 9 hour 2nd part of the race follows on Saturday morning and all is prepared to receive the car after one race lap so that the power steering can be fixed. The pitstop takes 24 minutes so unfortunately the gamble did not succeed, but even with several laps deficit the spirit is high and we start an 8.5 hour catch-up race. 125 laps later, all is well and we have been slowly gaining positions both overall and in the class, when suddenly Sam reports a broken drive shaft. Fortunately it happened just before pit in so he was able to roll to a halt in the pitbox, but it's another 15 minutes unscheduled stop that throws us back at where we started the day. 3 Hours to go, but no miracle happened so we finish P6 in class and 29th of 46 overall. Not what the team had hoped for, but we had a lot of good racing, exciting moments both on track and in the pitbox, and the weather was fantastic so all in all an event to remember.
We certainly will be back and fighting for victory; that's what we do – we're in it to win it!