Date: 30 April 2016//
—
Data Analysis and Coaching.
Adrenalin Motorsport had again entered 8 cars for this race: 3x Cup5 BMW M235i Racing, 1x V5 Porsche Cayman, 2x V5 BMW Z4, 2x V4 BMW E90 325.
Conditions were very difficult with a mix of rain and dry periods. In qualifying all drivers could get a feel for the track and the cars were one by one clocked through the necessary laps. The fastest times in each class were set by Gabriele Piana who put the #669 Cup5 on P3 of 20 starters with a very good 9:13, Daniel Zils put the V5 Cayman on P6 of 14 with 9:45, and Christoffer Rink put the V4 E90 on P3 of 10 with 9:57.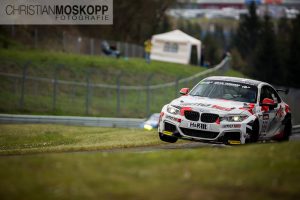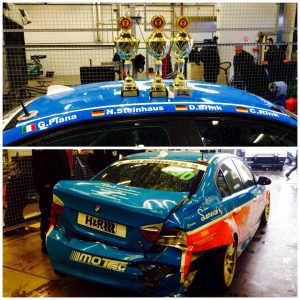 The race became a survival game with torrential rain in the last laps with all cars on slicks; of 181 starters only 123 saw the checkered flag. Of the Adrenalin Motorport cars, 5 were involved in incidents and two collected a DNF. Double starter Gabriele Piana set fastest race lap in both class Cup5 (9:11) and V4 (9:48), even after he had made an excursion into the barriers at Aremberg! Unfortunately, the #669 was one of the DNF cars, but #490 made it to the finish and a well deserved P2. #667 had a collision in the first few laps that sent them down to P18, but very solid lap times saw Uwe Ebertz, Norbert Fischer and Christian Konnerth climb to a very respectable P5.
Horror in the pibox when pictures came from Doettinger Hoehe where the #444 Cayman had made a 90 degree right hand turn into the barrier at 230kmh. Fortunately driver Andreas Schettler could walk away without injuries.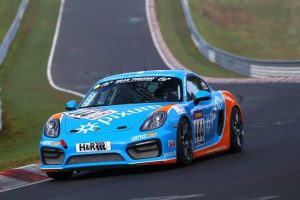 Next race is in 2 weeks (14/5) and although there a lot of work is needed to repair all the cars, no doubt we will have them all back in top shape and ready to fight for victory in all classes!