Racing in the US, a new experience!
Good friends Pat and Jim Briody had invited me to join them in a Mazda Miata for this now traditional 25H race at Thunderhill Raceway near Willows in Northern California. It comes as no surprise to anyone that I took the challenge and started to get organised; my FIA International race license would not be recognised and US race licenses aren't just handed out to anyone, but with good help from Dave Ko of NASA, I got that sorted with minimal paperwork.
Bad news came from team boss Marc Hoover a couple of weeks before the race; his hand was injured and he had to withdraw. What now? Pat and Jim found me a seat in a similar Miata with Kevin Pyles' Spare Parts Racing team.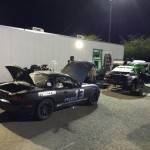 Jim on the other hand had no seat, but he and Pat would come to the race anyway, giving me support and maybe he could find an available seat once there.
With BA via London to San Francisco Tuesday and a bit of sightseeing (Muir Woods on Pat's recommendation) got me to the Holiday Inn Express in Willows and the track late on Wednesday. Driving slowly through the paddock looking for the team, I see Pat and I'm given a warm welcome – marvelous. The team is busy setting up camp and introductions are made. Jim turns up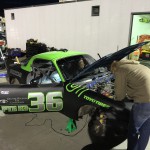 with the Briody camper and we settle there for a nice cup of tea and travel stories. Time for dinner and we're off to their favorite restaurant (there are only two in Willows) where it turns out that new ownership has happened since last year and the menu and service is not quite what they were used to.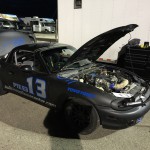 Thursday is practice day. I meet two of my co-drivers Brett and Milan whose greeting "Nice here, eh!" placed their origin firmly north of the Canadian border. Milan did this race with Kevin last year so is the only one of us who has driven Thunderhill, not to mention a Miata, prior to this day. Amazed at the absence of formalities by the organisers, we get stuck into a wet test session slowly getting oriented around the track. Jim's guidance is invaluable; he has done the race many many times and knows how to drive it quick, wet or dry. While we put in lap after lap, Jim walks the paddock introducing himself to the teams and asking if they have an opening. Jim is ex-factory pro-driver and the world's most experienced endurance racer, having raced everything from 1100hp prototypes to … well the other end of the scale, and has countless wins and podium finishes; there are not many teams where he would not be their fastest driver, but so far no luck.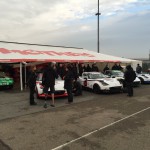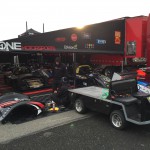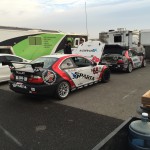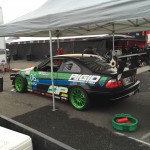 Friday is another test day and now it is dry, good! The three of us each have a good set of laps both before and after lunch, and feel we have achieved what we needed to in the two days of testing. Official qualifying is next, but it is only a half hour session, so I am getting ready. Having set the fastest times during practice, I was appointed to qualify the car for the team :-). Daylight is slowly disappearing, and traffic is suddenly quite heavy, so I fail to improve on my practice time, but put the car on P5 of 10 in class, 43 of 65 overall. Team meeting and race strategy is then being discussed. Kevin recommends that we drive double stints as changing drivers takes much longer than filling the tank. We then agree that I start, followed by Brett, then Milan and finally Alberto who has also joined us. That will ideally be 4 times 3 hours and running it twice will take us till the last hour; what happens then will be decided later. However, planning for more than the first stint is usually just wishful thinking anyway…:-) This evening Pat treats Jim and I to home cooked dinner and with Jim having found not only one but two seats for the race, moods and spirits are high – despite Jim having been "taken out" during quali in his little Honda Civic by an overly ambitious Porsche 911 driver.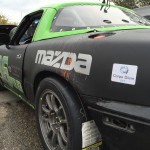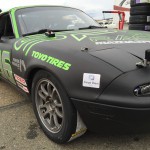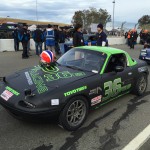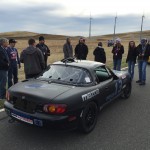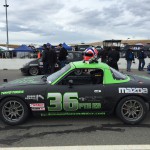 Saturday, race day! Everything is different in the US; checking in at the track entry, no check of driver equipment, hot pit, cold pit, no green flags, safety car, fuel from canisters, change of max one wheel in the hot pit,… my head is spinning – but the relaxed and friendly atmosphere for sure makes it nice and easy to participate! During the grid walk I meet Vic Rice who elaborates on how a Honda took out their Porsche during quali – ouch! 🙂 Amazingly the entire grid filled with drivers, crew and spectators suddenly goes totally silent as a bagpipe player performs and the national anthem is sung – respect! The US Air Force flyover with jets is replaced by a helicopter this year, but still another tradition we don't have anything similar to back home.
Time to get going, two warm-up laps and race is on. Already in turn 3 two cars collide and make a mess just in front of me so the advance I had made in turns one and two are lost again. Lap after lap I can't help but be in awe of how well the little Miata handles – no other car I have ever driven has tolerated so much lateral G! The team's sister car #13 Blackie that started P2 is having handling issues so I'm able to pass it and find myself in a nice battle with a Porsche Cayman while another Miata is on my heels. Then Blackie seems to have self-healed so passes me with ease. 2 hours go bye and it's time to refuel; it's a splash and dash really and just a little delay as a flapping front bumper is taped down.
Safety car, and I'm car #4 behind it. Bummer, that means that everybody that I were just behind now sprints round the circuit and sits just behind me! Indeed, only a couple of laps after the safety car pits Blackie flies past me again; one lap down… Safety car again, and again I'm car #4 behind it, NO! Groundhog day, a couple of laps later I'm two laps down and back in P5. Oh well, it will even out during the 25H, at least we can hope it will. Time for driver change, 3H 25m is the longest stint I've done, and this was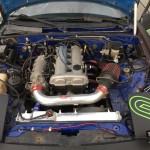 definitely one of the funniest! Brett takes over for his double stint and I zip down to the hotel for a hot shower and a lay-down. While there I tune in to the timing screen and …oh dear, we're in pit and an SMS confirms the worst; "#36 Kermit is having an engine transplant". We tumble to P9 and 65 laps behind the leader before we're rolling again. Car feels fine though, so we give it our best; first Milan then Alberto.
At midnight it's my turn again. It has been raining, but not very heavy, so we're still on slicks and there is a dry line. By the way, we're using Toyo DOT slicks and after 13 hours we've only changed 3 tyres, left rear is still good! I'm pleased to report that the fast cars (Prototypes, GT3s) are much more patient than at the 'ring and nobody is flashing their lights urging you to disappearing into thin air – or off the dry line; great! I get a heavy rain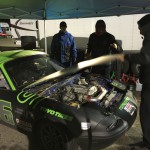 shower and need to slow down a couple of laps but still catch a NASCAR-like Camaro that has absolutely no grip poor thing; the Miata flies past him…
Stint strategy is that we drive till the car sputters from fuel starvation, then pit. Of course I get the sputter just after pit in, and the car struggles to fire properly even after I've straightened up after the turn. Hmmm, a few gear changes up and down and in 5th it seems to run normally again. I radio in to say I'm pitting, but then at the end of the straight the car goes black; no radio, no lights, ouch. I flip on the emergency light system JAWS that gives me a flashing orange light on the roof while I roll round the entire track in pitch darkness hoping the engine doesn't die and nobody runs into me – frightening stuff! In pit they see that the alternator plug has popped so a short repair fixes that and we're back in business.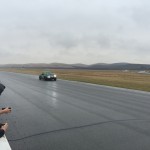 Milan takes over and gets a real downpour so we switch to full wets for the first time. At 05:00 I start my last stint and it is wet, dark and in mybook miserable, but the Miata still sticks like glue so unlike other cars it actually both turns in and stops like it should even if it's wet – I'm in love with this little thing! Other than the Camaro spectacularly spinning just in front of me nothing much else happens in the stint other than my bladder filling, so of course just after I've checked with the team if Alfredo is ready we get a full course caution, aka safety car. From the rule-book: 5 minutes penalty for pitting during safety car; bummer. OK, just ride it out, the SC normally pits after 2-3 laps anyway. Of course this time the SC is not out because of an accident, but because race control in their wisdom have judged that the rain is now so hard that it's too dangerous for us to race. No less than 11 laps behind the SC before I can finally pit! So, I'm done. Alfredo takes over for a double stint, then Brett and/or Milan to finish it off.
I was lucky that I still had the hotel room; the hot shower and comfy bed  followed by hot breakfast – together with Patand Jim who had just come off his daybreak double stint – was pure luxury compared to camping at the track! So, after the relaxed check-out from the hotel, back to the track where unfortunately I had missed Brett and Milan who decided to depart early and leave the lapping to Will and Alfredo. They both did very well in the rain, and especially Will who is an ex-caretaker for the track and literally lived there for several years driving it every day could keep the #36 on the same lap-times as the fastest in the class. In the end we secured a P6 which considering we had almost 3 hours of unscheduled pit-works meant that we had podium pace when we were running. Maybe we should try again next year!?