Cold, wet, but fun!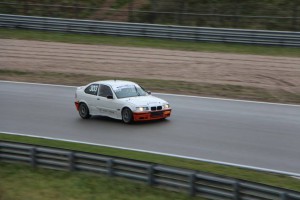 Zandvoort 500 is the first of the three races that together are known as the Dutch Winter Endurance Championship. As can be expected this time of the year, the conditions are different from most other circuit races with temperature just above freezing and we were not spared some heavy showers either. However, the Cor Euser Racing team brought two well prepared cars, the 120D "Herbie" in new livery and the 318ti as good as ever. The 120D was driven by Cees Lubbers and Jim Briody, whereas I shared the 318ti with Carel Krieger. While Carel and I had to accept that we were the slowest in the field, Jim and Cees did a bit better although an off meant Herbie needed some race tape and minor repairs before the start grid could be joined. Having left the pitlane with a rather unfamiliar exhaust note, it was necessary to re-enter the pitbox for an exhaust outlet adjustment which meant starting from pitlane and missing the two warm-up laps.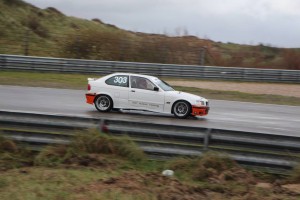 Carel started on intermediates in the 318ti, but with rain coming in heavy after 20 minutes he pitted and I got full wets and drove an 80 minute stint with increasing confidence and even overtook one other car! 🙂 Carel then did his 80 minute stint and the laptimes varied as the showers came and went. We were no longer last in the field but there were no retirements in our class so we were heading for P5 of 5. I had the last 30 minutes to finish the race and with more and more dry line it w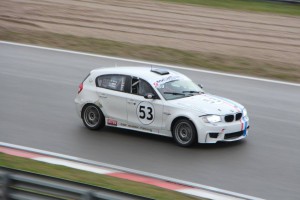 as obvious that full wets were no longer the best choice, but I kept to the wet parts of the track and saved the tyres for just one quick last lap :-).
Jim and Cees in Herbie had been steady on P3 in their class until a fuel issue forced them to make a couple of extra stops that cost them the podium finish.
Yes, cold and wet as expected, but would I do it again? Oh yes!