Driving Cor Euser Racing's Lotus Evora GT4!
I was over the moon when I got the go-ahead to join Cor Euser Racing at the 24H Dubai in the SP3 #70 Lotus Evora GT4. My previous attempt at this event was 5 years ago in a Corvette GT4 and that ended with a DNF and not a lot of driving time, so I had a score to settle. My co-drivers would be Vic Rice (USA), Dom Bastien (USA), Richard Verburg (NLD) and of course Cor Euser (NLD).
I arrived on Wednesday, just in time to join Dom and Cor as they were about to set off on a "drive your rental around the track" session – perfect timing.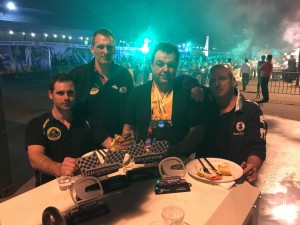 Cor had a lot of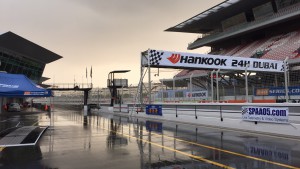 good tips for us and it was good fun screaming through the corners in that little rental! We all got a few short test stints that day, even if it was raining a bit, but enough to get familiar with the car and start to pick up pace around the track. One funny moment was when I was out for the first time; Cor came on the radio saying I had to come in as I had joined the "top cars" session instead of waiting till the "all-classes" session – yes, eager! In the evening I joined the crew (Eloy, John, John, John) at the BBQ party and Big John got to receive all the Cor Euser Racing medals and trophies for the good results during the 2015 season.
Official practice started Thursday, and we all got a few more laps and improved both laptimes and confidence.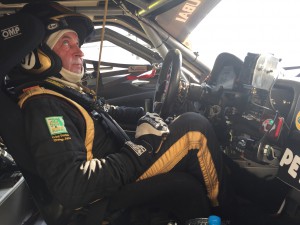 Cor was as expected our fastest driver so he would do the qualifying session. He puts down a great 2:10.5, but we are all a bit perplexed to see that it is only good enough for a P6 in class; we have 5 Ginettas in front of us, with three of them having lapped under 2:10! Oh well, it's a long race…
On Friday the warm-up session starts at 10:30 and Cor takes the car out to double-check that everything works as expected.
The inevitable crash that removes another car from the grid stops the session, but Cor returns with a big smile and declares the car "PERFECT!" – we are ready to race!
Quite a few spectators have arrived for the grid walk where drivers, crew, grid-girls, friends and visitors mingle, good luck wishes are exchanged and photos are made. We leave Cor and the Lotus on the grid and some take to the grand-stand or the pitbox roof to watch the start live whereas others prefer the TV screens and timing monitors in the pitbox.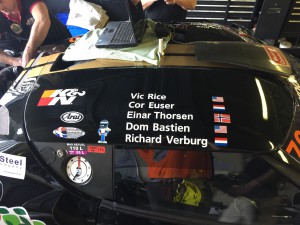 2 warm-up laps and the race is on. Cor gets a good start and outruns the P5 #178 on the way to corner 1. In corner 7 he squeezes past P4 #282, glides past P3 #284 out of corner 9 and makes a classic passing of P2 #229 into corner 10; way to go Cor, from P6 to P2 in half a lap! Enjoy this short onboard video from the start of the race! In lap 5 the 221 Aston Martin overtakes Cor into corner 14 and while Cor is following the Aston easily he is overtaken by an SP2 car into corner 10 and the Aston starts to pull away while the SP2 car is slowing Cor down. In lap 9 it starts to get interesting as Cor laps the first back marker and into corner 1 he is himself lapped by the top 3 front runners. The next laps become very challenging as the gaggle of GT3, 991 and SP2 cars catches up and every corner is a fine balancing act between overtaking the slower cars and being overtaken by the faster cars. Unlike Cor, this is too much for some and in lap 14 we get the first accident and Code 60. Even though we have only been racing for 30 minutes, many cars dive into pitlane to top up their fuel. Cor stays out and voila we are P1 in class J. 19 minutes later the Code 60 is withdrawn in lap 18 and Cor is pushing to keep the lead. Another short Code 60 in laps 29 and 30, but Cor stays out still and can push harder with fewer cars on the track, setting what is going to become our fastest race laptime at 2:12.2. After 45 laps, Cor's 2 hours are up and it is my turn.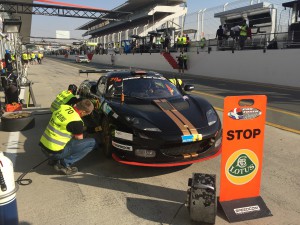 Cor jumps out, I jump in, and with Cor's help belts are fitted and within 1 minute I can start the engine and head off to the refueling area with four fresh tyres. Big John and Khan are ready, but there is a queue so I'm 3rd in line for an available pump. It feels like eternity sitting there knowing that your competitors are racing and you are stuck in a queue! Finally, a pump opens up and then it's another wait while 105 liters of Dubai's finest race fuel is delivered to the Lotus through a normal filler gun. Check everything for the tenth time, don't forget 20 km/h speed limit in filling area, cold tyres, … and we're off! Having taken care of the cold tyres for half a lap, I can floor it out of corner 12, catch a Clio in corner 13, but, what's that? Of course, Code 60… OK, settle in, eventually I catch a group of cars that go slower than 60, but cannot pass them of course so just hang there. Fortunately, the accident area (collision between #161 and #224) is quickly cleared and in corner 16… Green Flag, yes, finally, racing! Immediately overtook 5 lower class cars, was overtaken by a Porsche, caught and overtook the #178 Ginetta in corner 12, and then caught and overtook the #51 Ginetta in corner 16 – a good first race lap! The next three laps are clean and the traffic is less of a challenge than expected, kudos to (almost all) drivers in all classes for driving sensibly and predictably. In my 6th lap we get another Code 60 (the fourth) as #125 has rammed the barrier after turn 14 pretty hard so it takes 12 minutes to clear. Got the green flag in turn 3 and the driver in the #26 Lamborghini must have missed it because he let me and another car pass before waking up! Yes, OK, by turn 7 he had passed us again… The next 10 laps are clear so I work the laptimes down to personal best at 2:15.5. Must admit I was a bit distracted by my drink system as the tip at the end had come off so I had two pieces of it in my mouth as well as biting on the tube to avoid it being ripped out of the helmet – oh well, the small details… Then we get the next Code 60 (the fifth) in my lap 19 when car #74 and another mess it up in the fast turn 13 and since it's half way through my 2 hour stint we decide to pit for fuel.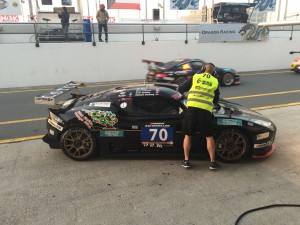 The fuel drill went much better now that we had pitted so early in the Code 60, so no queue and only 35 liters meant I was in and out in 3 minutes; good! And yes, I did have time to fix my drink system too! Well, back on track I'm of course just joining the Code 60 traffic and this time it takes 24 minutes to clear so I spend the next 4 laps looking at the rear end of Porsche #87 and trying to find a way that the drink system tube could be placed so that I didn't tug at it when turning the wheel – impossible. Green-Green-Green over the radio just before turn 10, careful through as the tyres might not be on the right temperature and a bit of drama as a Clio spins in front of me in turn 11, but no contact. The next two laps are slow as I try to find back the rhythm, but then in the third lap, as I try to engage 6th coming into turn 13, nothing happens; car stays in 5th. Hmmm, into turn 14, taking 4th, then 3rd, no, stays in 4th. Round turn 15, consider throwing the car into pit entry, but decide not to – maybe this is just a fluke that can be easily fixed via some radio coaching? Now going around in 4th trying all sorts of up/down gear changes, but to no avail so I dive into the pit where the crew try a few things before they give up on the new compressor and switch to the backup and yes, it works again. Quick refuel and then out again, but in the meantime yet another Code 60 (the sixth) has been called (collision between cars #146 and #151) so I just run through the gears up and down going 60 and all seems to work. As it is close to the end of my stint anyway, we decide to pit for driver change during this Code 60, so I pit and hand the car over to Dom.
Dom starts with 4 laps under Code 60 which takes him through dusk and into the night. He continues with 11 clean laps, but then comes off line in turn 5 and spins – luckily without hitting anything and without being hit by anyone! He gets going on his own and has another 5 laps before the next Code 60 (how many have we had now – 7?) because #8 has stopped on track. Dom comes in for another fuel load and rejoins the traffic. When the green flag is given after 19 minutes he gets a good 15 laps including his best laptime at 2:21.5 before his time is up.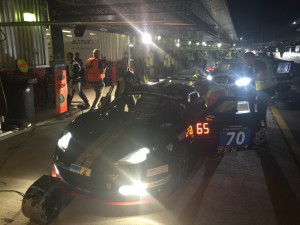 Richard takes over and immediately gets into a good rhythm and the laptimes (2:13.4) are showing that he's feeling good in the dark. He pits for fuel after 28 laps, and 20 laps later he is done – awesome job!
It's Vic's turn, and he too is quickly on the pace (2:15.3), but after 34 laps we get the call from him that there is no throttle response anymore! The car is re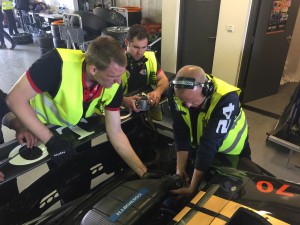 covered to the pits, the throttle body replaced, and Cor takes the car back out – all OK again, but we have lost another 20 minutes. Then comes the longest Code 60, and Cor hands over to Dom who sits in the traffic for 4 laps and when the green is given, the new throttle body fails! Another 20 minute pit recovery and replacement before he is rolling and then he gets another 20 clean laps where he improves his laptime to 2:18.9.
Then it's Vic again, and this time he gets a very nice 48 lap stint, only spiced with a short Code 60, and impressing with steady fast laptimes (2:14.5).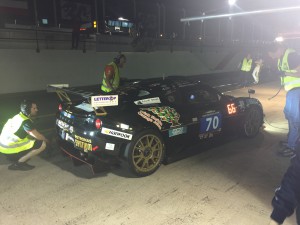 Cor takes over and discovers that the brakes are not performing as well as they should, so we make a quick stop for rear pads. Cor then stays out for another 17 laps before coming in having decided that we also need to replace front pads and disks. It's a slightly longer job, but done with routine and precision so Richard is soon heading out for his first day-light stint. After 21 laps he also gets to experience the Code 60 that this time takes 20 minutes to clear. Then he has another 16 laps before… BOOM, he's hit from behind and spins out touching the barrier briefly with the front. He is able to crawl back to the pits, but the car is wounded. Right rear needs a suspension part replacement and the front alignment is badly off. Unfortunately, this is a tricky repair so we've lost a good hour before Dom gets going on his first day-light stint. Laptimes are again improving (2:17.1), but after 25 laps we get the radio message we dread: No throttle response.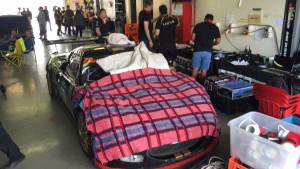 Dom this time manages to coast into pitlane in 5th gear and the crew gets to work on replacing the throttle body again. I get the signal from Cor to take over, so quickly get strapped into the car – ready! The crew finishes the repair so engine on, throttle down… no revs – NOOOOO! Again… nothing, full reset, nothing, laptop connected, nothing, … The crew is worried, this is not good, phone calls to HQ, more laptop work – still nothing. Finally Cor makes the call; game over.
Long faces all around, but "that's racing" – picking up another DNF in Dubai only means one thing for me; I'll be back!