Date: 16 July 2016//
—
Data Analysis and Coaching.
Adrenalin Motorsport had entered 7 cars for this race:
#444 V5 Porsche Cayman 981 with Büllesbach, Schettler, Zils
#445 V5 BMW Z4 E86 with Kroth, Aebi, Apfel
#446 V5 BMW Z4 E86 with Grazzini, Bertelli, Croci
#480 V4 BMW E90 325i with Bugane, Bugane, Sadun
#490 V4 BMW E90 325i with Rink, Brink, Piana
#667 Cup5 BMW M235i Racing with Fischer, Konnerth, Ebertz
#668 Cup5 BMW M235i Racing with Van Husen, Miller, Bergstein, Thriene
#670 Cup5 BMW M235i Racing with Leisen, Trummer
Special coaching sessions were arranged for Leisen/Trummer as the latter was also preparing for his WEC LMP-1 race the following weekend.
Also Miller/Bergstein were taken good care of and shown where and how to make their laps faster and safer. Unfortunately Bergstein was taken out by an overly eager Audi GT3 in the qualifying and although the team managed to repair the car in time for the race, he decided to leave the fight for podium to the other drivers on #668.
Race results Cup5: #670 P5, #668 P6, #667 DNF
Race results V4: #490 P1, #480 P6
Race results V5: #444 P2, #445 P10, #446 DNF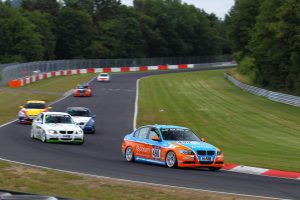 Picture shows the class winner #490 just ahead of his closest rivals.